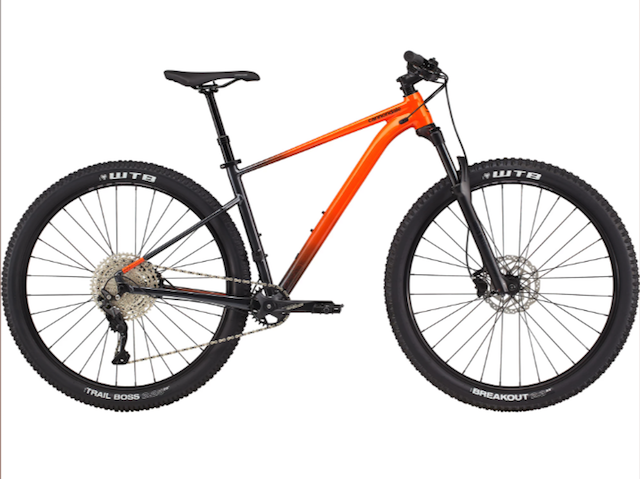 Today's mountain bikes are more capable than ever – advances in design and technology have  delivered cross country bikes that descend like downhill bikes, enduro bikes that can pedal efficiently all day long and offer the kind of durability we could only dream about 10 years ago. Rider-friendly features like dropper posts and tubeless tyres now come standard on many bikes and there are many ways to tweak your bike for the perfect ride.
To help you decide and choose the right mountain bike for you, we classify the types of mountain bikes into four broad categories:  cross country, trail, all-mountain or enduro, and downhill.
CROSS COUNTRY MOUNTAIN BIKES
Cross country mountain bikes are lightweight machines built for efficient pedalling over smooth, rolling terrain. They typically come with 120 millimetres or less of front and rear suspension or travel (travel means the amount in millimetre a fork can compress when absorbing a shock.) and when combined with 29 inch wheels, they provide quick and precise handling – these bikes are great climbers. Specialized have some great ones.
TRAIL BIKES
Trail bikes are the most versatile and popular type of mountain bike. These bikes come with either 27.5 or 29 inch wheels and up to 150 millimetres of travel. They usually offer an efficient pedalling system along with frame geometry that excels in varied terrain.
ALL-MOUNTAIN/ENDURO MOUNTAIN BIKES
All-mountain or enduro mountain bikes are designed to handle the steepest and roughest terrain that challenging routes and trail present. They usually have anywhere from 150 to 180  millimetres of travel. Their big suspension and slack geometry is focused mainly on the downhill, so this means they're a little harder to pedal than a trail bike but, in return, you have incredible shock absorption and stability at speed.
DOWNHILL MOUNTAIN BIKES
Downhill or DH mountain bikes are built solely for descending. They're so specialised that you'll probably want a lift to the start of your downhill descent! With dual crown forks and over 180 millimetres of travel these bikes are cumbersome to pedal but there's no denying their pure downhill prowess.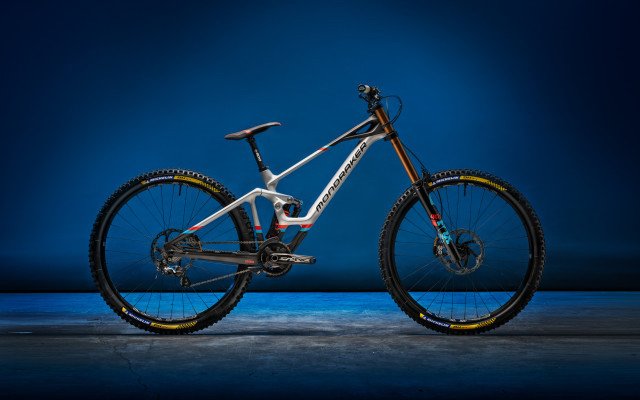 KEY MTB FEATURES
In addition to thinking about which type of mountain bike is right for you, there are some key features to look out for, that affect how each bike feels and how they handle terrain. The most important things to consider when choosing a mountain bike are wheel size, suspension and geometry.
WHEEL SIZE
One of the most important factors in choosing a mountain bike is wheel size.
The vast majority of mountain bikes come in either 27.5 or 29-inch wheels. 27.5  wheels are considered easier to turn and jump. They aren't quite as fast as larger wheels but their quick handling is a little more playful and could be a great option for smaller riders.
The larger diameter of 29-inch wheels means they roll faster,  float over bumps and holes, and maintain speed better than smaller wheels. With their improved grip and rolling efficiency, 29ers have become more and more popular in recent years.
SUSPENSION
Most mountain bikes are full suspension with anywhere from 100 to 180 millimetres of travel. The suspension helps to keep your tyres in contact with the ground and soak up rough terrain. As things get rougher and steeper, bikes need longer travel to deal with the bumps in the holes in the trail.
Lightweight air springs mean that you'll see full suspension bikes in every category from cross country bikes to hardcore enduro and downhill bikes.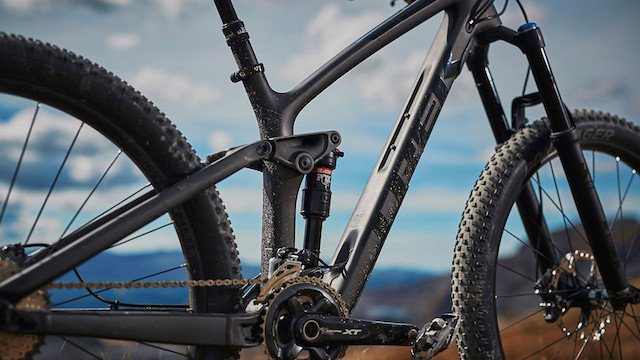 HARDTAIL MOUNTAIN BIKES
You might also see bikes with front suspension only these are known as  hardtail mountain bikes. They're definitely simpler and easier to maintain with fewer moving  parts. Hardtails are very precise and responsive but they are typically more demanding to ride.  When people talk about mountain bike geometry they're talking about the dimensions of certain key parts of the bike. The current trend in mountain bike design  is "longer, lower and slacker," which makes bikes more comfortable and stable at speed.
 Think about it as being more "in the bike" than "on the bike."  This modern approach to bike geometry means that there are big enduro bikes that are a  dream to pedal and cross country bikes that are fully capable of dancing through heavy terrain. With so many bikes to consider figuring out how to choose the right mountain bike can feel pretty overwhelming. Before you start out, think about what terrain you realistically would like to ride.  Check out what people are riding in your local area and use that as a starting point.
E- MOUNTAIN BIKES
There are now electronic pedal-assist mountain bikes in every configuration, and they're the fastest-growing  segment in the market. Electric mountain bikes allow you to ride routes you could only dream of on a traditional mountain bike, covering more ground on each ride. If the idea of turning  that once-a-year epic into a twice-a-week ride appeals to you consider going electric. 
---
Wrap-up
At Mountain Bike Centre we think a solid trail bike is a great place to start. Their versatility means they can handle just about anything.
Once you've chosen the type of bike you'd like, the next thing to consider is the spec and build – this usually goes hand in hand with your budget. Let's start with frame material – the majority of mountain bike frames are  made from either aluminium or carbon fibre. Carbon has a better strength-to-weight ratio but is more expensive to make so expect to pay a bit more.
Both materials have their advantages and it's not uncommon to see either when you head out on the trails. Next up are components, which cover things like gears, brakes, suspension, and wheels. The complete set of components for a mountain bike is often referred to as the "parts kit" or "specs". It is common for brands to offer multiple builds of the same bike at different prices. Parts makers introduce lighter and more durable components as the prices rise but there's plenty of excellent technology at lower price points too. As your riding improves there are many ways to upgrade your bike to match your evolving skills and preferences.
Mountain bikes come in different sizes  which you typically choose based on your height. They're pretty straightforward usually Small,  Medium, Large and so on and online retailers are pretty helpful at displaying what they mean.
---
When looking at how to choose the right mountain bike for you, it's easy to get bogged down with suspension designs,  millimetre differences, and gram counting. All of that stuff can become more important later on but don't lose sight of the goal here: to get out and have fun on two wheels. Keep the momentum going and choose a mountain bike that makes sense for you now – you can always reassess after a few seasons of riding.
Just remember, today's mountain bikes are super versatile!