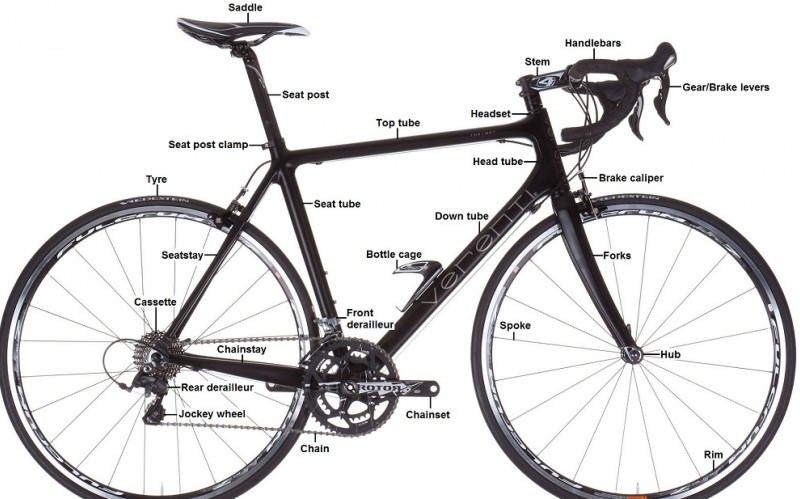 The anatomy of a mountain bike is made up of several
sections and components, most of which are explained below:
Bottom bracket – This attaches the crankset to
the body of a bike.
Brake cable – This is the cable that connects the
brake lever to the brake mechanism.
Brake lever – The lever on the handlebar to
activate the brakes. The left side is the front brake
and the right side is the rear brake.
Chain – The circular set of links that transfer
power from the chain ring to the cogs.
Chain ring – The toothed rings that attach to
the crank to hold the chain.
Crank – The lever that extends from the bottom
bracket to the pedal, transferring the power to the
chain rings.
Derailleur – The gear mechanism for moving the
chain from one cog to another.
Down tube – The section of frame that extends
downward from the stem to the bottom bracket.
Front shock – The shock absorber on the front
fork.
Handlebar – The horizontal bar attached to the
stem with handgrips on the end.
Headset – The mechanism in front of the frame
that connects the front fork to the stem and
handlebars.
Hub – The centre part of the wheel that the
spokes are attached to.
MTB: Abbreviation for 'Mountain Bike'.
Nipple – A threaded receptacle that holds
the end of the spoke to the rim.
Pedal – The platform to pedal on; attaches to
the crank.
Rear shock – The shock absorber for the rear
tire on dual suspension type bikes.
Rim – The metal ring that holds the spokes
on the inside and the tyre to the outside.
Saddle – The seat.
Seat post – Offers support for the seat.
Skewer – The metal rod that goes through the
hub, attaching the wheel to the dropouts of the
frame.
Spindle – The free rotating axle that the
crank arms attach to; also a part of the bottom
bracket.
Spokes – The thick wires that join the hub to
the wheel rim.
Stem – A piece that attaches the handlebar
to the steering tube.
Wheel hub – The centre of the wheel that the
spokes are attached to.
The above is far from a comprehensive list but it's a starter and will help you delve deeper as you learn to examine each mountain bike element, discover its purpose, how it functions and make repairs to or replace/upgrade.